Login

"Wenn du vorn' derbei sei willscht, gilt: Schädel rein und durch!"


---
Rennski im Härtetest bei Rennen

---
Abschlußtraining in Berwang - Bericht von ReeinsTV

Mehr Infos unter "News"Alle Videos findest du in der Videogalerie Videogalerie 2012.

---
Eine Übersicht der Videos ist in der "Videogalerie_2011" archiviert.
"Videogalerie_2012"
---
Welcome > News
News


19.12.2017
Hard training and some warmup races



Livigno

The last weeks I trained really much, long and hard and had a big focus on testing my new skies - I'll inform you next time about the new way I'll go for ;-)

During the last periode of training I also did some races to push even more and to have more effect on my body - it was really hard to compeet although I was very tired at the start, but sometimes you have to show your body who's the boss!
The race results are not importand in this periode, much more that I'll learn to push even harder, if I'm tired.

As I told you above, next time I'll tell you some very interessting news about my skies ;-)

20.11.2017
New Team member and short Trainingscamp in Obertilliach



Andreas Oberleiter
a.oberleiter@gmx.at

Since today I have a new masseur, and I'm very happy that Anreas support me with many different ways to help my body to recover faster ... very importand after some really hard trainings in Obertilliach.

The trainingscamp in Obertilliach was short, but I did some very good sessions - and also the skitests were very interessting... more news the next days ;-)

08.11.2017
Trainingscamp in Italy



Monte Zoncolan

The last 8 days I had a great time in Italy around Monte Zoncolan, a really hard mountain, 1740m high, about 10k long, 11,5% / 12,8% medium climp and the last 4k up till 23% steep ... a legend of Giro Italia.

It was a hard period of training, with much intensity training, but also with some long easy mountaintours - wonderful in this beautiful region.

Now I'm at home, time to let the training work - my main job now is to analyse the training - and racedates of my cyclists, develope a new trainingsconzept for them and write the plan their training for next year.



some images of the last weeks you will see, if you push de button above (view on instagram)

23.10.2017
Long distance training, a little illness and my athletes worked very well



4,5h trailrunning tour at 2000m

The last week I had a really great time in training, I was much time up in the mountains and did many long and very long trailrunningtours up there. The focus was on fatmethabolism training, without breakfast, no carbs during the training and slowly tour till 6h.

In the last time I was a little ill, not really, but I think you know what I meen - always a little cold, light headache,...
It lasted about 3 weeks, so I did a big break and now it's ok again.

It seems that also my athlets had a great time - they did many personal records and podiums in the last races - great I'm very proud of you ;-)



sunrise skiroll training

31.08.2017
Tests in the IMSB Austria were working great




Last week I was in Vienna for the Tests in the IMSB Austria to check how is my performance. I went there with a very good feeling, because after the races before, with at least 4% higher performance level, I was very confident.
Also the tests in Vienna proved the result of the races, out of eight tests I did 5 records, 2 second places and one medium result ... of all 34 times since 2001 ... seems my new program is working ;-)

10.08.2017
Dreihütten Rennen Mountainbike



Foto: Drei Hüttenrennen

The Drei Hüttenrennen is a 15k uphill Mountainbike race, not really a perfect track for me, because with 100kg it's really, really hard to fight against the 65kg uphill bikers. So my motivation is another one. I compeet this race now for 10 years and always with the same bike 26"/15kg, so I have a perfect comparison to the other years and can see how my training is working.
This year it's even more interesting for me, because I completely changed my system of training, and how it look's like it works - 4,2% faster than last year ;-).

Also two other athlets, who are following my new trainingssystem were compeeting this race, both very succesful, one overal winner at the womans' race and one of the men's race 6,6% faster than his all time best - great!!! congratulations!!!
Both are working fulltime (38,5h/week) so they can't train very much, even more the result is very surprising ;-)

10.07.2017
Radmarathon Tannheimertal - cyclingrace
7,7% faster than last year, and victory of one of my athlets at the 230km distance





Last weekend was a great one for me, one of my athlets won the 230km/ 3500Hm cyclingrace of the girls. Vanessa did a great job, work hard in training although it was tricky to creat a optimal, individuall plan for her, she workes regularly 40h a week and so she doesn't have too much time for training, but after thinking a bit, we found a perfect timing for the trainings.

My race was also very good, I improved my race time 7,7% in confront of last year, seem's also my new system which I'm trying this season workes as well pretty good ;-)



befor the start with my teammates

27.06.2017
Hard block of training, by following my new trainingsystem and the race after were perfect.




The last time I wasn't really very present on social media or updating my homepage, but the reason was the exhausing trainings of the last weeks. Often I only came home after the training and went to bed .... sleeping.

It was a hard time, but the result was perfect, I did my test race, the MTB hillclimb of the Lechaschau Challange, a very nice team race, MTB, swimming, nordic walking and running in a new record time - 5,9% faster than my all time best - seems my new system of training works...
I'm very happy and motivated for the next part of training :-)




29.05.2017
Training is starting to work and also my athlets are getting stronger and stronger



Teamtraining cyclingteam Reutte image: Kleinloff

The last weeks I relaxed a little bit, didn't do too much training and enjoyed the dolce vita. My main work was to write some training shedults for my athlets and to get the cycling racers near their shape.
As a big "thank you" of them and as a proof of the working trainingplan they killed me during a cycling tour and one was really nice to me ... he told me: you are too tall, too fat and now also too old to be a good cyclist ... thank you very much :-p -
the next weeks this guy will suffer and will have only I5 trainings for revenge ;-)
My problem is, that he will be always faster in cycling than me, he reach top 15 results in big international races and so it will be very, very hard for me to challange him.
Now I started to train in a right way, no more dolce vita ... not anymore every day ... and I focused more on my eating habits... and ... it worked, the last tour with our cyclingteam it looked much better for me.

11.05.2017
New Trainingssystem, start of training and trip to Hamburg



first mountain tour to the Creta

After short holidays in Hamburg, it was a great time up there, relaxing and very nice.

Right now I started to train again for the new season, but I changed my system compleetly. Now for about two years I invited a new system, but I was never courageous enough to start with it. This year I had the feeling that I would like to change something in training and so I'll start with the new programm.
My idea is that I can do another step infront with my performance and even more to improve my athlets and my work as trainer.

19.03.2017
Int. Subaru Skadiloppet (GER) 42k classic Euroloppet
winner Jiri Rocarek (CZE)
place 12 / agegroup 2.



a picture can say more than thousand words ...

The skadiloppet was really a tough race, 3° heavy rain, very wet, deep slowly snow ... not really nice to ski, but for a xc-skier ... still fun ;-)

After two days of very bad weather, the organisator had to cancell the skatingrace due to storm and heavy rain on Saturday, we raced on the very difficult track at skadiloppet, it was really hard for all competitors - congrats to all who finished!!!

For this conditions it was a good race for me, I dont't really like slow, deep snow, but my shape was good and so the result was ok.


13.03.2017
XCS Teamballtle Hochfilzen (AUT) 15k classic
winner: Speedmanggeis Marathon Team Austria
(Kirchler, Lentner, Stöggl and me)

It was a great event yesterday in Hochfilzen, somthing really new for me, I never compeeted in a team timetrail and this finishing with a victory was perfect.

Mike, Tom , Roli and I we had a great taktic to keep the speed high and we are very happy that it worked so well. With some special tuning we hat great skis - another brick in the way for the victory ;-)



photo: Stöggl



photo: Stöggl

05.03.2017
Vasaloppet (SWE) 90k Worldloppet
winner: John Kristian Dahl (NOR)
place: 290

It's easy to speek this year about my Vasa, I was in top shape, could follow the leaders easily in the uphill and in the first small downhill they went away from me. This happened with nearly every group in nearly every downhill and so I desided to go easy till Mora.
Normally I would have to give up, but if I didn't have had broken my skies or I have had problems with my health, I couln't do this.

The last week I was very angry, I prepaired one year for this event, was healthy and in top shape, easy up the first uphill, my biggest problem, and than this ....

26.02.2017
Achensee 3-Tälerlauf (AUT) 33k classic
winner: Matthias Kuhn (AUT)
place 5 / agegroup 1.




Achenseelauf was the last test for the Vasaloppet next week and it worked great. After the hard training last week I was a little bit tired, but I could follow the group easily all the race. At the end I had a small hole and that were the winner's group went away. That wasn't a big problem, because my trainingspartner was in the group and he could win the race - great ;-)





17.02.2017
Gsiesertallauf (ITA) 42k classic Euroloppet
winner: Mauro Brigadoi (ITA)
place 4. / agegroup 2.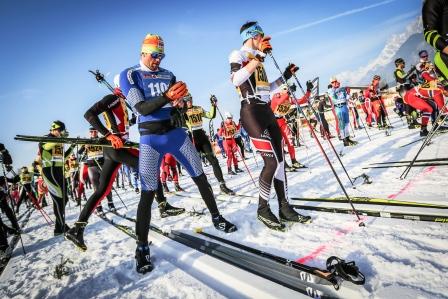 Foto: Deutsch

The Gsiesertallauf was a real tough, but also a real top race for me.

But first I would like to say thank you to the orgasnisation, they did a great jop, due to the lack of snow they had really a hard work to do, but they did it and managed it - now 34 times in a row without chancelling - European record!!! - congratulation!!!!

The race it self was very very fast from the beginning, after 2-3k we were only 10 guys left, some kilometer later only 7. The first two went away, and we were fighting in a 5 athlets' group till the last uphill - about 5k very steep and hard. Not really my topography with 100kg, but I did a great job and could manage to get 4th. Of course I had no chance against the light weight athlets with about 65kg, that's why Eriksson (SWE) could get away from me and took the 3rd place.

With the result I'm very happy, maybe a bit strange, when you are just beside the Podium, but with this final climb i managed to do the maximum possible.

Next week I'll compeed at Achnesee 3-Tälerlauf and then will be my season highlight the Vasaloppet in Sweden

12.02.2017
Koasalauf (AUT) 50k classic Euroloppet
winner: Jiri Rocarek
place: 3. / agegroup 3



Foto: Deutsch

Koasalauf was a great race for me, it is one of the most importand races in Austria and I'm very happy that I finished at the podium. It was really a great day for me, my first Podium this year and this on a such importand race in my home region ... yes!!!!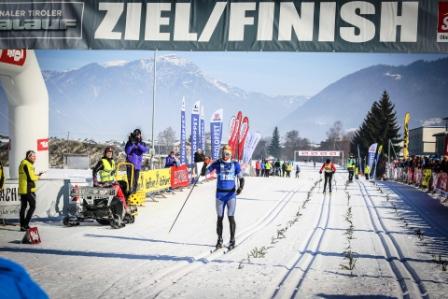 Foto: Deutsch

Next week I'll compeet in Italy at Gsiesertallauf, I'm looking forward to :-)

05.02.2017
König Ludwiglauf (GER) Fis-Worldloppetcup 38km classic
winner: Max Olex (GER)
place 27/ agegroup 4



foto: Deutsch

First I want to congratulate Max, great result - topp!!!

My race was also very good, I had the first time this year really power and speed. I did a tactical misstake end of the first loop and so I lost with four other guys the leaders' group - it's a bity, because I felt very strong till the end , but anyway I'm satisfied with my race and the result.

Next week Koasalauf, I'm looking forward to :-)



foto: Deutsch

I'm sorry, all my news page disapeared .. and I have now idea why?